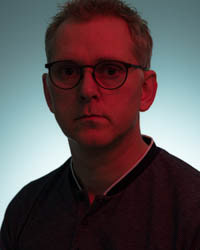 Let me show you the world in my eyes...
Thank you for visiting my portfolio website. I am Bart, a photographer based in Eindhoven, The Netherlands, focused on fine art Architecture and Landscape photography. I work mainly in black and white but I have also discovered the value of introducing color in my images nowadays.
In this current digital age, we are constantly being bombarded with visual stimuli that try and grab our attention for just a few seconds. Overloaded with imagery there is too many distractions to really take time to look and see what is important. I believe careful observation is a really valuable skill that I have learned whilst being trained as a scientist.

Through my photography I want to challenge people to step out of their daily routine to explore and appreciate the simple beauty that is around us everywhere; A beauty that only reveals itself if you take time to really observe and look out for it; be it created by man in the city or created by nature in the countryside; stripped of all unnecessary distractions; just the elements that matter to capture that magic moment; frozen in time and space to restore a moment of peace and calm in an otherwise turbulent world.

Background...

I first got interested in photography whilst at university when I bought my first second hand SLR camera of a fellow student. To me photography is a means to express myself creatively that allows me to escape from the day to day drama and clear my head; it gives me a purpose to explore the world and to get to places or do things I would not normally get to or do otherwise.
Growing up in the 80s and being a fan of bands like U2 and Depeche Mode I became acquainted with Anton Corbijn's photography and art work. I have always liked his raw and grainy black and white style of photography with strong contrasts between light and shadows.
The analytical skills I inherited from being trained as a scientist have expressed themselves in a very graphical and often minimalist style of photography using strong contrasts. I am always on the lookout for details, lines, shapes and textures that appear aesthetically pleasing to me and have a preference for clear compositions focusing on a single subject.
Inspiration...
Ever since buying my first radio when I was 10 I have been listening to music and this still brightens up every day of my life. In recognition of that I have taken to seeking inspiration from song titles as captions to my photographs to add another layer of expression where appropriate.
I am also a great lover of films for their ability to create a completely different reality using cinematic lighting as one of the tools to affect mood.